Center welcomes summer interns
As the Center adapts to recent challenges posed by the global pandemic, we are excited to announce that we will have two summer interns joining us remotely. The summer internship positions are part of our student engagement programming initiatives. This year, we are welcoming Dhiraj Adhikari as our Climate Advocacy Intern and Judith Marklin as our Communications Intern.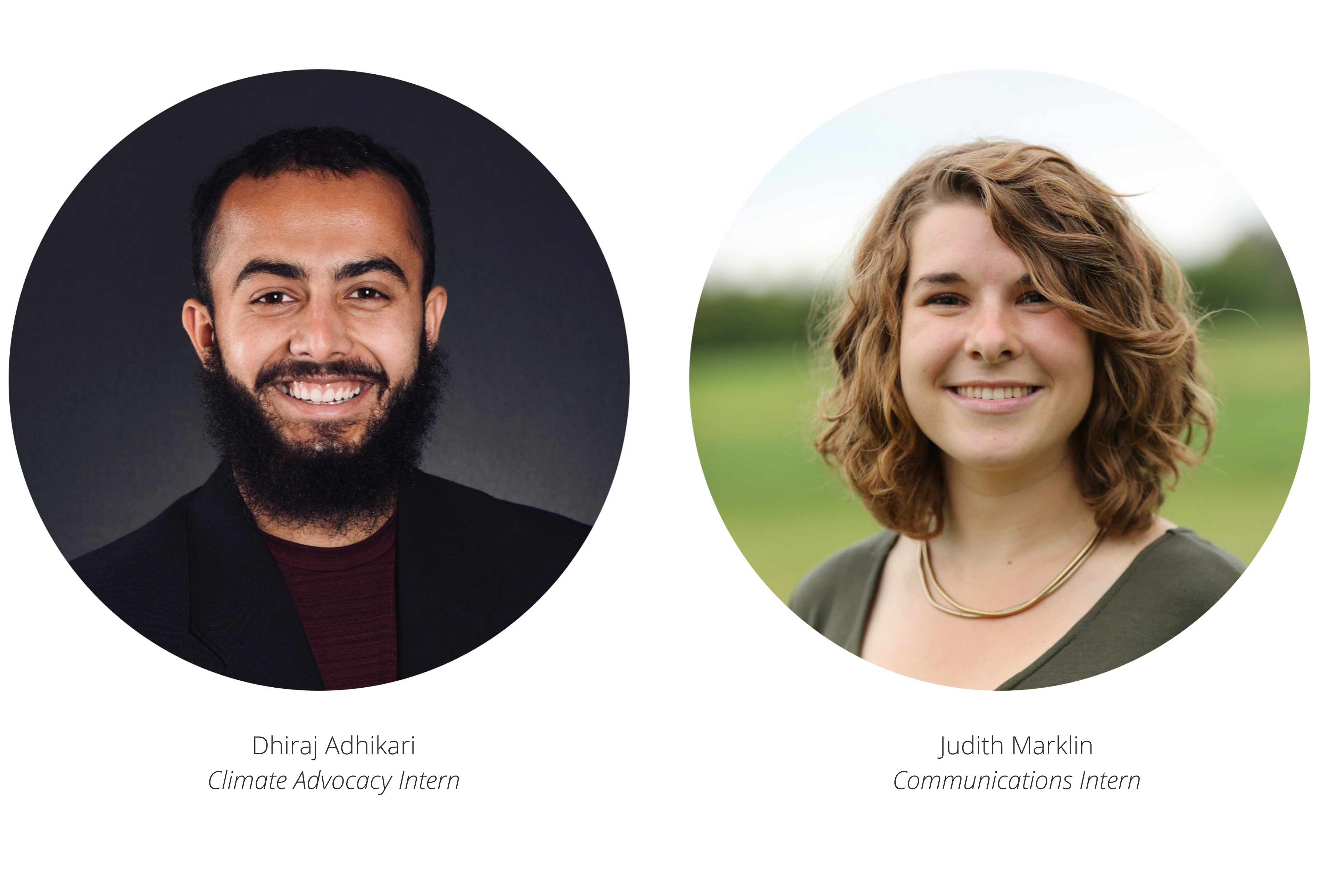 Dhiraj Adhikari, currently located in Austin, Texas, is a rising senior at Tabor College in Kansas. He will graduate this upcoming December with a degree in Environmental Science. While at Tabor, Dhiraj competes on the tennis team, is the president of the Green Club on campus, is the vice president for the Science Club, and is a member of the Student-Athlete Leadership Team (SALT). He was also a CSCS Campus Climate Ambassador for this past school year.
Dhiraj is looking forward to this summer internship and is excited to learn about different aspects of climate action. He is eager to make connections that will continue to help him in the future, as well as attend various meetings regarding environmental issues and advocacy. He believes he can "learn a lot from these meetings and from listening to the people that are currently working as professionals in the environmental field."
Originally born in Nepal, Dhiraj moved to the US at the age of 13. When he was 20, he went back to visit his hometown in Nepal and was amazed at the differences he saw. In just seven years, there were drastic changes in the landscape and climate. He visited during what is normally monsoon season, but there was no rain. All of the rice farms were turned into fisheries. It was almost unrecognizable. This sparked his interest in climate action and his desire to study environmental science. He hopes to one day work for the EPA and eventually start an environmental protection agency in Nepal. "I want to do work that will put a smile on someone's face and motivate them to be great," he concluded.
Judith Marklin, currently located in Contoocook, New Hampshire, is in her final year of graduate school at the School of Theology in Sewanee, Tennessee. She is pursuing an MA in Religion and Environment and recently created a new role at the university as an Eco-chaplain. At Sewanee, Judith is also a member of the Interfaith Advisory Council, the Food Literacy Project Advisory Board, the Sewanee chapter of the NAACP, as well as the Sustain Sewanee Coalition.
Judith is excited about the opportunity to work with the Center this summer. She is looking forward to making new connections with organizations and individuals involved in faith-based climate action, as well as promoting existing initiatives. She is eager to work on developing her own climate justice resource in the coming months, as well as gaining "valuable knowledge and skills that will continue to benefit me later on."
In undergraduate school at Houghton College, Judith majored in International Development, with minors in linguistics and world religions. It wasn't until later on in her college career, when she studied abroad in Kaikoura, New Zealand with the Creation Care Study Program, that she began to see the importance, interconnectedness, and interdisciplinary nature of climate action. This realization grew as Judith spent time earning her Permaculture Design Certificate, beekeeping with her father, and working at the family business in NH (they make liturgical beeswax candles). Judith is interested in finding a way to marry agricultural development, education, climate justice, community building, and textile art – although she is still discerning next steps. Nevertheless, she continues to "carry on boldly, grateful for any opportunities to rub elbows with people and the rest of Creation."
The Center is excited to work and collaborate with these two lively interns this summer. Stay tuned for updates!
To learn more about internship and fellowship opportunities the Center offers, check out our Student Engagement page.
If you have any questions for Dhiraj or Judith, feel free to email them at interns@18.213.234.181.