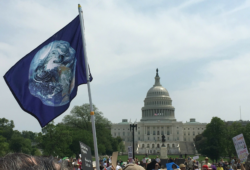 Whitney Ricker began her position as the Climate Advocacy Intern with CSCS in May this year and has been consistently creating excellent resources for the Center throughout the summer. This past week, another project of hers came to completion, in the final creation of an election resource on climate change geared towards Mennonites.
The resource, which serves as a "voting guide" on climate issues, offers helpful suggestions for those interested in engaging with their local politicians on climate change, but not entirely sure how to go about doing so. From tips on the best way to get in touch with elected officials and have your voice heard, to useful questions on different topics related to climate change, the guide offers a variety of resources to Mennonites who are interested in climate justice.
Initially, the resource will be published here on the website under Policy and Advocacy Resources and printed to be distributed at conferences and meetings. Long-term, the hope is to expand the resource into a full online voting guide, complete with Frequently Asked Questions, and helpful interactive pieces. Read the Voting Guide below, and click here to download the guide for your own use!