by Katie Isaac, CSCS Faith Outreach Intern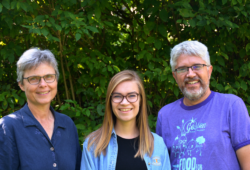 After a month and a half in the Faith Outreach Internship with the Center for Sustainable Climate Solutions and Mennonite Creation Care Network (MCCN), I have grown and been encouraged in countless ways. Getting to work with both CSCS and MCCN at Goshen College's Merry Lea Environmental Learning Center in Indiana has exposed me to people who are living out their faith in Christ with responsibility towards creation.
From research to outreach to logistics planning, every day of the Faith Outreach Internship looks different. I spend half my time with CSCS Director of Pastoral Ecology, Doug Kaufman, working on curriculum development, logistical planning and publicity for the series of retreats he is planning entitled, "Who Cares About Climate Change? Pastoral Responses to Denial and Despair." Getting to discuss the importance of pastoral care in the realm of climate change with pastors, professors, and environmental educators through curriculum development have widened my view on the niches that people of faith can have in these conversations. Learning how to encourage and empower action instead of fostering feelings of denial and despair are especially important when in conversation about climate change. Another part of planning for these retreats have been handling the logistics of planning, such as communications with retreat centers, budgeting, and publicity.
Another avenue for encouragement and empowerment with CSCS comes from communications with CSCS's Climate Advocacy Intern, Whitney Ricker. Together we work with MCCN's network of Green Patchwork Churches to encourage and facilitate climate advocacy. I have also begun reaching out to Mennonite Church USA congregations who are not yet a part of the Green Patchwork network, inviting them into conversations about how they are affected by issues surrounding climate change and creation care. Learning about and encouraging churches' sustainability practices in their locales is important, and giving them the opportunity to extend those practices to education on climate change policy is the next step toward broader solutions. Climate advocacy looks different in every case and identifying resources that CSCS, MCCN and MCC can provide is crucial for contributing effective support.
The other half of my internship I spend with Jennifer Schrock, the leader of MCCN. With her, my internship roles involve communication and publicity. I interview churches within our Green Patchwork network and hear about their stories of environmental stewardship. Some are as adventurous as Plains Mennonite Church's Interfaith Power & Light three-day bike ride to Capitol Hill for conversations about climate change while other stories are as devoted as Wildwood Mennonite Church's through-the-year congregational challenges to live more sustainably. I have the privilege of sharing their stories through MCCN's website and Facebook page. Through my work and conversations, I have begun to understand the importance of the strong support network which MCCN provides-many churches (and individuals) can feel isolated in their push against climate change so connecting them to news from other congregations can provide support and encouragement. The conversations can also serve as a platform for churches and congregants to talk about their events and share information, lessons and advice with others. MCCN's work to draw churches together and encourage their efforts towards sustainability through Green Patchwork Churches, energy grants, and educational opportunities is an important part of working towards sustainable solutions in faith communities.
I feel so honored to be a part of CSCS's and MCCN's efforts and am excited to continue contributing to their growth through the Faith Outreach Internship. I have learned so much already, and I look forward to continuing to support CSCS and MCCN after completing the internship. If you have any questions or want more information about how you or your congregation can get connected with MCCN through Green Patchwork Churches, sustainability practices, or our pastoral retreats, contact me at katieei@goshen.edu.
If you are interested in our internship programs check out our available programs here, or email Daniel Bellerose.