by Whitney Ricker, CSCS Climate Advocacy Intern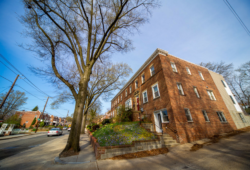 My first few weeks as Climate Advocacy Intern have flown by, and I have already gained so much from this experience. Being in Washington D.C. and seeing how policy and advocacy play out on the federal level has been extremely informative, and I am so honored to be working with the Mennonite Central Committee's Washington Office and the Center for Sustainable Climate Solutions. I hope to continue to support them in the future, even after my internship ends.
Since starting my internship, I have learned that religious advocacy groups are extremely vocal when it comes to issues of environmental justice and climate change. In my first month, I have attended meetings with members of the Washington Interreligious Staff Community (WISC) environmental working group, which brings together people of faith who are interested in promoting pro-environmental justice and general sustainability legislation on Capitol Hill. I also had the opportunity to go on a day-long retreat to Annapolis with other interns who are interning with WISC partner organizations, and we had the opportunity to learn all about current environmental legislation and issues that are playing out this summer. The passion of the different religious organizations towards these issues has been quite refreshing to see, especially since many climate skeptics often try to use their faith to justify their skepticism and promote unsustainable lifestyles. It has also been wonderful to see people setting aside their personal differences and beliefs in order to make a positive impact, as that seems to be lacking in today's contentious political climate.
One of my largest projects this month has been compiling an election resource which specifically addresses issues related to climate change. This was a bit challenging for me, as it was the first time I really had to consider how to address policymakers and candidates. However, the hardest part was attempting to write this in a non-partisan, "middle of the road" style, which is extremely hard to accomplish with a polarized issue like climate change. It forced me to look at how I approach this topic, and how I can best bridge the gap between different ends of the political spectrum. And while the media and certain politicians would have you believe that this gap is impossible to bridge, I have been pleasantly surprised to learn about the Climate Solutions Caucus, which is a bipartisan coalition of 70 House members who are coming together to promote sustainable solutions to climate change. I, like many other people, had assumed that little bipartisan action occurred when it comes to climate change, but learning about bipartisan efforts like this, along with the religious advocacy efforts, has really opened my eyes to the amazing work that is being accomplished even while the current administration rolls back the progress that was previously made.
Another of my main tasks this summer is to work with my fellow intern, Katie, to reach out to Mennonite congregations from across the USA and to build a network of churches who are passionate about climate change advocacy, policy, and sustainability. We hope to bring these churches together to supply them with resources so that they may educate themselves and their communities on this topic. I have successfully contacted multiple congregations from around the country, and many of these congregations seem equally excited to work with us. I am excited to see how this new network of dedicated churches blossoms in the coming months.
I am excited to see what the rest of my internship holds, and how I can help CSCS to grow and spread their message in the coming two months. If you are interested in learning more about how you or your congregation can become more active in regards to climate change and sustainability, please email me at whitney.ricker@emu.edu.
If you are interested in our internship programs check out our available programs here, or email Daniel Bellerose.