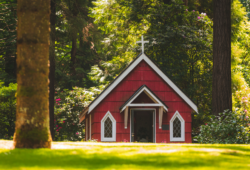 "To be faithful stewards of Creation by responding to global warming through the promotion of energy conservation, energy efficiency, and renewable energy… to protect the earth's ecosystems, safeguard the health of all Creation, and ensure sufficient, sustainable energy for all." This is the powerful mission of Interfaith Power & Light (IPL), an organization founded in 1998 as a coalition of Episcopal churches aggregated to purchase renewable energy. Now, 20 years later, IPL has expanded to welcome members of all faith communities, has affiliates in 40 states, and is one of the biggest interfaith environmental organizations in the United States.
They work to bring change to energy legislation with national campaigns, which often have effects far beyond the faith communities they work with. Their Paris Pledge program, for instance, encourages congregations and individuals to affirm their own commitments to the COP 21 commitments that the US pulled out of last year. They also have campaigns which encourage congregations to examine their energy use and to engage in organizing their community around climate action.
Over the past year, the Center has developed relationships with two state IPL affiliates: Hoosier IPL (H-IPL), and Virginia IPL (VAIPL). Ben Brabson, who sits on the Center's Board of Reference, serves as the Science Advisor for Hoosier IPL and was pivotal in the development of their Climate Boot Camp program. He has lent his experience from his time with IPL to board meetings, and made suggestions based on successful H-IPL programs.
Daniel Bellerose, the Program Assistant at the Center, serves on the Steering Committee of VAIPL and uses connections with the organization to further the work and reach of the Center.
This weekend, Daniel will be attending the first IPL event in Harrisonburg, in the hopes of connecting with other faith-based environmental groups in the area. The event, United We Work for Creation Care is being sponsored by VAIPL, and will be on Saturday, June 30th, from 10:00 am – 11:30 am.
This event represents the real power of IPL's grassroots approach. They have local chapters throughout the country and are able to interact with organizers in their own town, and engage in issues which are affecting individual communities. It allows them to have a much broader reach, while still having the feel and care of a small nonprofit, dedicated to its community.
As well as taking action, and making connections, IPL serves to educate people of faith about their shared commitment to creation care. They produce resources on carbon reduction, solar power, and statements from the major faith communities on creation care. For many that they work with, IPL serves as the connecting point, that helps them see how their faith, and their love of the earth, can be combined to be all the more powerful.
From their grassroots organizing to their educational materials, IPL serves as an inspiration for the creation care movement in the United States. By following their example of carefully plotting connections, and passionately pursuing creation care, organizations like the Center can learn important lessons, and collaboratively make the future a brighter place.