This summer, the Center is excited to welcome two new interns to the CSCS team. Katie Isaac, a third-year student from Fresno Pacific University, will be working as a Faith Outreach Intern with the Center's Director of Pastoral Ecology, in partnership with Goshen College and Mennonite Creation Care Network, and Whitney Ricker, a recent graduate of James Madison University, will be working as a Climate Advocacy Intern at Mennonite Central Committee's DC office.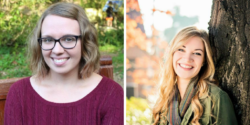 Katie Isaac, the Center's incoming Faith Outreach Intern, is studying Environmental Science and Political Science at Fresno Pacific University (FPU). She is currently a Laboratory Assistant for the Natural Science Department at FPU and the president of the campus's student environmental club. Katie enjoys research and field studies, and can often be found hiking and exploring in California's beautiful Sierra Nevadas. She spent last summer taking classes and performing field studies in the Olympic and Cascade mountain ranges with Au Sable Institute of Environmental Studies. Exposure to environmental literature and personal experience in local mountain ranges and in the Central Valley of California has brought her to a passion in climate studies, and she looks forward to pairing her studies and faith in Jesus Christ through the Faith Outreach Internship.
What interested Katie most about the Faith Outreach internship was an opportunity to tangibly connect her Environmental Science degree, her personal emphasis on creation care, and her value of stewardship to the world in real ways. Her desire for union between environmentalism and faith-filled stewardship has been an integral part of her faith journey in the Mennonite Brethren church, and this Faith Outreach Internship provides the opportunity to share that with others and study it in further depth.
In the future, Katie hopes to apply her love for God, the natural sciences, and people wherever God calls her and is looking forward to the unique opportunity to explore that passion with the Center for Sustainable Climate Solutions.
Whitney Ricker, the Center's incoming Climate Advocacy Intern, is from Winchester, Virginia. As a recent graduate of James Madison University, where she studied Geographic Science, with a concentration in Environmental Conservation, Sustainability, and Development, her goal is to continue her studies at graduate school, where she will be studying climate justice.
"I am thrilled to be joining the Center for Sustainable Climate Solutions and the Mennonite Central Committee this summer," said Ricker, when asked about the opportunity. "As an undergraduate, I had the chance to take multiple courses which dealt with both the science and social issues surrounding climate change. One of the highlights of my undergraduate career was completing a capstone project which compared the increasing urban heat island effect in El Paso, Texas, to resources available to residents to fight the heat; this built upon past research and showed that some of the neighborhoods which are most vulnerable to extreme heat are often some of the most underprepared for the ramifications of a changing climate. It is extremely troubling how many of our top policymakers refuse to look at not just the science, but at who will be the most impacted by climate change. I think that it should be a Christian's duty to preserve the environment and to help those who are the most vulnerable. I hope that through my work this summer, I can help to make a positive impact both on the Mennonite community and in the larger interfaith advocacy community in Washington DC. position."
The Whitney and Katie's hiring marks the beginning of an ongoing internship program at CSCS. To meet the goal of engaging student leaders, and creating future leaders for the Mennonite community, the Center will be funding yearly summer internships, in partnership with Core and Strategic Partner offices. For more information about the Faith Outreach, and Climate Advocacy Internships, see our internship page.
The Center for Sustainable Climate Solutions (CSCS) is a collaborative effort of Eastern Mennonite University, Goshen College, and Mennonite Central Committee. CSCS advances thinking and action in Anabaptist and other faith communities to mitigate climate change. Our goal is to make climate change the moral equivalent of war and violence in the Anabaptist community and to change hearts and minds around climate change in the church.