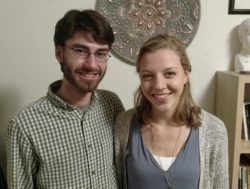 In the fall of 2017, Eastern Mennonite University seniors Harrison Horst and Michaela Mast created a podcast for their senior capstone project, Shifting Climates. A year later, they will begin to produce the podcast full-time, along with a fellow 2018 graduate, Sarah Longenecker, as the Center's first Climate Futures Fellows.
They plan to create a two-season podcast and will begin working on the podcast in August. They hope to have their first episode published by November of this year.
The podcast, which will be the crux of their work with the Center, is a faith-based podcast about climate change. The goal of the podcast is "persistently having good conversations about faith, hope, and climate change." Through conversations across the professional and generational spectrum, the creators hope for Shifting Climates to be a catalyst in shifting the needle on climate change for the Mennonite church.
"As the Center's first round of fellows, Harrison, Michaela, and Sarah have a unique opportunity to pave the way for future fellows, and for the Center's work in engaging with the Mennonite church," said Doug Graber Neufeld, Director of the Center. "We at the Center are excited that they are engaging with this issue in a way that is both relatable and tangible."
Along with the podcast, Sarah plans to create a website, and a photojournalism series around the stories they gather while working on the fellowship.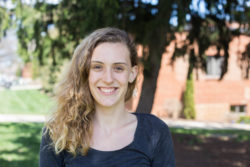 Given the Center's goal to engage with the Mennonite church on climate change in unique and innovative ways, the team wants to include people around the country from a wide variety of backgrounds to speak about climate change and its impact on their lives. Potential episodes include features on Appalachia, interfaith voices, Mennonite relief sales, and pastoral gatherings.
They will connect with the work of Doug Kaufman, the Center's Director of Pastoral Ecology. The podcast will be used as a resource for individuals or congregations who want to engage further with the issue.
Michaela is optimistic about the potential impact the fellowship might have. "We have high hopes that this podcast will illuminate the humanity within climate change," she said. "By doing so, we invite people to join together in energized conversation around climate change as an issue that brings our core values of peace, justice, love, and humility to the center of who we are as a church like little else does. This is an invitation to learn, to dream, and to move with us as we discover what restoration looks like. At the heart of our goals is a belief that this can be a galvanizing, rejuvenating conversation…one that transcends divides in age, race, theological differences, political ties, and geographic location."
We couldn't be more excited about working with Harrison, Michaela, and Sarah this coming year, and are looking forward to the impact their work will have both on the Church, and the Anabaptist community as a whole.
Listen to the first episode of their podcast here, and read our initial press release about Shifting Climates. Keep an eye out on the Center's page, as we will be updating with new episodes starting in November.
To learn more about the Center's Climate Futures Fellowship, please email daniel.bellerose@emu.edu. Applications for 2019-20 fellows will open in August of 2018.
The Center for Sustainable Climate Solutions (CSCS) is a collaborative effort of Eastern Mennonite University, Goshen College, and Mennonite Central Committee. CSCS advances thinking and action in Anabaptist and other faith communities to mitigate climate change. Our goal is to make climate change the moral equivalent of war and violence in the Anabaptist community and to change hearts and minds around climate change in the church.