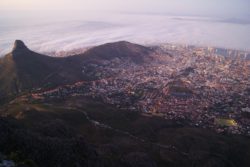 When discussing the merit of faith-based climate action, it is easy to dwell on what MCC's Intersections: Responding to Climate Change calls "mitigation". There are clear paths for faith groups to work towards climate mitigation, such as lobbying and advocacy, and improving energy usage in places of worship and homes. While these stories are incredibly important, they sometimes overshadow the efforts that are being done in "adaptation" or "adjusting to actual or expected climate change and its effects. Within communities, adaptation means avoiding or diminishing harm from climate impacts or exploiting beneficial opportunities associated with climate change."
One of the things we have been dwelling on recently at the Center is the water crisis in Cape Town, South Africa. At the beginning of the month, we posted about the crisis connection to climate change, and its potential for conflict, two issues which are close to the heart of the Anabaptist tradition. This week, we intend to dwell on some good news, as Religion News Service reports that faith groups have been springing into action in response to the crisis. Their article, As Cape Town's water crisis nears 'Day-Zero,' faith groups spring into action, is a great example of faith-based adaptation in the face of potential climate disaster.
At the beginning of February, the Anglican diocese of Cape Town hosted a Water (In)Justice Conference, which included over 120 lay and clergy members "aimed at infusing the upcoming Lenten season with messages and prayers around water's sacredness, scarcity, sanitation, biodiversity and sustainability."
The church has taken the incoming "Day Zero" as an opportunity to help the community. The conference included free water-saving tools, like the green plastic blocks participants were advised to drop in their toilet tanks to preserve water.
Rev. Rachel Mash, Environmental Coordinator for the Anglican Church of South Africa and Green Anglicans says that the churches job "is to reduce water ourselves, inspire others to reduce water, share ideas on how to do that, get the message out into the community, and avert Day Zero."
Anglican Archbishop of Cape Town, Thabo Makgoba, even takes an issue with referring to the predicted day without water as "Day Zero". "From a biblical perspective, the concept of void and nihilism does not sit well, because we take the creation story seriously," he said. "Zero has the connotation that this is the end. It doesn't give us hope. But we are responsible. We can do something. We can avert it."
Archbishop Makgoba prefers to call "Day Zero", "Day One" instead. Presenting an opportunity for action, rather than an absolute ending.