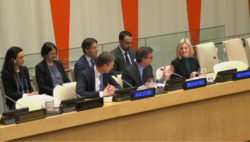 Last week, MCC, one of the Core Partners of the Center, published part one of a discussion of the December 2017 Arria-formula meeting of the United Nations Security Council (UNSC). The series is called At the Intersection of Climate Change and Conflict.
The first article in the series highlights the UNSC meeting title Climate Change: Preparing for Security Implications of Rising Temperatures, which was called by 8 member countries, including the Maldives, which has long been the forerunner in the discussion of the need for climate legislation on the basis of national security, and sea-level rise.
The meeting had four priorities for discussion: "the reinforcement and promotion of the (S/PRST/2011/15)statement on climate change; how the Security Council can effectively assess new climate caused security risks; how to address food-insecurity, migration, economic stress, and other peripheral effects of climate change; and how to prevent climate caused conflict."
The issue of climate-influenced conflict is one that speaks directly to the heart of the Mennonite tradition. As one of the Center's goals is to make climate change "the moral equivalent of war/violence and begin to take collective action", this is particularly of interest to the Center's goals. The strong statements being put out by UNSC, and MCC on climate change's relationship to international conflicts draws a direct correlation between the traditional Mennonite desire for peace and the need for collective climate action.
You can read the full story from MCC, and keep updated on the continued discussion here.
To see other resources on how climate change affects the Global South, see the Center's Global South Resources page.