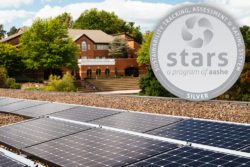 Goshen College and Eastern Mennonite University, two of the three core partners of the Center, have long held commitments to sustainability. Last month, both colleges had something to celebrate in sustainability on campus.
EMU earned its second consecutive "Silver" rating through the Sustainability Tracking, Assessment and Rating System (STARS), put out by the Association for the Advancement of Sustainability in Higher Education (AASHE). They received their first award in 2014.
Doug Graber Neufeld, director of the Center, said that innovation throughout the institution was "a vital component of environmental stewardship and addressing ever-growing concerns about climate change. The steps EMU has taken provide a strong foundation for the ongoing work of increasing sustainability."
The rating recognizes the sustainability efforts of the university in three areas: curriculum and research, operations, and planning, diversity and engagement. It defines sustainability as "encompassing human and ecological health, social justice, secure livelihoods, and a better world for all generations."
As well as EMU's recent reason to celebrate, Goshen College announced this week that 2017 was their lowest year of energy consumption in over 25 years.
Since 1991, building space at Goshen has increased over 60 percent, which would normally result in increases in energy consumption. Despite this increase, Goshen has managed to achieve a 23 percent reduction in energy over the last 20 years, and a 35 percent reduction in the last ten.
This decrease in energy usage over the last couple of decades fits into Goshen's ongoing goal to reduce energy consumption. Glenn Gilbert, director of facilities at Goshen says that some of the success comes from the mechanical energy management system which controls heating and cooling.
"If you go into a room and it's not scheduled to be heated or cooled, its not going to be heated or cooled," Gilbert said. "If it's only being used a third of the time, I'm only heating it a third of the time."
Gilbert attributes the college's sustainability achievements to the institutions interest in long-term benefits, and investments in conservation.
As both colleges celebrate their achievements in sustainability over the last year, the Center remains thankful that our core partners are displaying a continued commitment to sustainable values, and we look forward to hearing more about sustainability at core partner institutions in the future.
You can read EMU's article on their STARS rating here.
You can read Goshen's article on their energy consumption here.