Starting this month, the Center will regularly be posting "Faith in action" items, or ways to engage in the issue of climate change as a person of faith. This month, we're starting with an advocacy action piece: ask your Representative to join the Bipartisan Climate Solutions Caucus. Read about the history of the caucus here, and take action using the link below.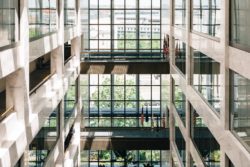 Two years ago, two Congressmen from South Florida, Rep. Carlos Curbelo (R-FL), and Rep. Ted Deutch started the Bipartisan Climate Solutions Caucus. It was the first of its kind, in an attempt to find climate solutions that Representatives from both sides of the political spectrum could agree on so that real, substantive change could be made.
In an interview with Yale Environment 360, Congressman Curbelo said that he partly started the Caucus because the issue affects areas close to home in South Florida. He said, "it's a local issue for me. The environment is front and center in South Florida, it's an economic issue for our community." On top of the immediate local concern, he believes that there is a moral imperative for taking care of the earth and engaging in good stewardship.
Since it began in 2016, the Caucus has been incredibly successful, recruiting 66 members of Congress and meeting regularly to discuss potential solutions. This is no small feat either, as a member can only join the Caucus with a member from "across the aisle", giving it the nickname, "The Noah's Ark Caucus."
Curbelo says that the Caucus was founded in an effort to "have a conversation about climate change, a sober conversation, based on the facts, based on the evidence." As people of faith, it is essential to heed the call of the Caucus and consider it in our own lives.  For the Anabaptist community, engaging in thoughtful conversation around difficult topics is the norm. The spirit of the Caucus could very easily have implications for our lives, as we consider how to approach issues like climate change with those "across the aisle" from us. Maybe if we engaged in sober conversations, and sought solutions because of a true passion for our communities, and an understanding of the moral imperative for stewardship, we would be able to make many more connections.
Here at the Center, one of our goals is to encourage members of the Mennonite faith community to speak out about climate change, and encourage others to do so as well. As we engage our faith in action, we hope that you might find an interest in participating in the conversation, wherever you stand politically. If you are interested in engaging with this issue, the Bipartisan Climate Solutions Caucus is a great place to start. Citizens' Climate Lobby, who was instrumental in the founding of the Caucus, have a list of Representatives who have joined the Caucus on their website. Check here to see if your representative has joined the Caucus, and if so, make sure to thank them! If your Representative has not joined the Caucus, and you're interested in getting involved, follow this link to find out more about how you can ask them to join!