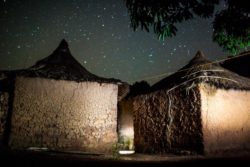 James Souder graduated from EMU in 2013 with a Bachelor's degree in Environmental Sustainability and went on to complete MCC's SALT program in 2016. During that time, he worked as a photojournalist, documenting "the impacts of climate change on agriculture in Burkina Faso, and the innovative solutions… communities have responded with."
Now he is a graduate student at the Yale School of Forestry and Environmental Studies and has had his recent photojournalism project published in their magazine, SAGE.
Souder says that farmers in Burkina Faso are particularly vulnerable to climate change, as, for them, reliable access to water is crucial. As irregular rain patterns cause droughts and flooding, farmers are forced to adapt and create new strategies for agriculture, which 90% of the country's population relies on for income and food.
The photos in the project highlight these solutions, and the ongoing impacts that climate change is having on rural Burkina Faso. The photo featured in this article was taken in the rural village of Moussoudougou, using a flashlight to highlight the rough walls. This photo, as well as nine other photos and stories, can be found on the SAGE Magazine website.
Photo from SAGE Magazine, by James Souder.