In the summer of 2017, Mennonite Central Committee, one of the core partners of the center published an issue of their quarterly, Intersections: MCC theory and practice, on responding to climate change. It featured articles by CSCS Oversight Board member, Tammy Alexander, and Strategic Partner MCCN's director, Jennifer Schrock. In an effort to provide resources to the Anabaptist community, the Center will be regularly publishing summaries of useful resources from the Anabaptist viewpoint on climate change. This is our first, but keep on the look out for more resources soon!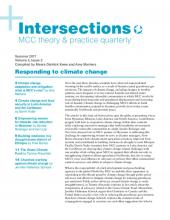 Mennonite Central Committee's work in the Global South focuses on building healthy communities, creating sustainable livelihoods, and promoting peace. Their work is consistently challenged by climate change, as severe weather patterns, altered water systems and population displacement contend directly with the health of the community.
This issue of Intersections is dedicated to climate change, because it is affects all the other work that MCC does. The issue features voices from around the globe: Myanmar, Ethiopia, Latin America and North America, and attempts to understand climate change contextually. "While diverse and varied, the voices in this issue emphasize that by caring for the environment, we are caring for people."
The issue deals with a variety of topics, from the role of MCC in climate action, to the effects climate change is having on communities from Ethiopia, Myanmar, Latin America and the Caribbean. It also includes case studies of churches working against the climate movement, written by Jennifer Schrock, director of Mennonite Creation Care Network (one of the strategic partners of the center), and a study of the Green Climate Fund written by Tammy Alexander, one of the Oversight Board members at the center.
If you are looking for an overview of the relationship between climate change and the Global South from an Anabaptist perspective, this issue of Intersections is the perfect resource.
You can access the issue by clicking the image to the left.