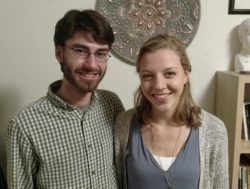 In early July this past summer, on the way home from the MCUSA 2017 convention, Harrison Horst and Michaela Mast began tending the seeds for a podcast which would eventually become their senior capstone project. Having felt unsatisfied by the conversations at the convention, they came to the conclusion that responding to climate change was an essential part of their faith and something they needed to discuss.
Shifting Climates is their response to this dissatisfaction, and to the desire to "rehumaniz[e] a conversation about faith, hope and climate change." Their first episode is a series of conversations with a variety of individuals from the Mennonite church who care about those affected by climate change. They met with people from across the generational and professional spectrum – from children to adults and professors to playwrights – and recorded their conversations in a familiar, and comfortable style.
Their conversations ask questions of the relationship between faith and climate change and even go so far as to question traditional labels around that conversation, such as the label of "environmental issue" which is so often put on climate change. It is professionally presented, and incredibly engaging, and definitely worth a listen. Hear it here on the CSCS website, as well as on Soundcloud and iTunes.