Join us in working towards a brighter future!
The Center for Sustainable Climate Solutions was founded with a clear vision to move the needle on climate issues within the Anabaptist churches, and to be the distinctive voice of Anabaptist tradition on this critical issue. We have been working hard to fulfill this vision, a vision for a brighter future for Anabaptists around the world, and now, we need your help to continue our crucial work. 
Our work is uniquely needed now. Scientists tell us that climate change is among the most urgent issues facing us, and Mennonite and Anabaptists are in a unique position to respond to it. We have a deep tradition of responding to the needs in our world, in fact our survey work shows that 72% of those in MCUSA think that caring for the earth should be an essential part of the mission of the church. Our shared history of compassionately responding to global needs, and living simply puts us in a prime position to be one of the most unique voices in the climate discussion. Yet overwhelmingly, Mennonites, like the general U.S. society, have not been very good at translating their concerns into action. In the first three years of our operation, CSCS has worked hard to change that fact, and to empower and activate those in the Mennonite church who can make a difference, from the leaders of tomorrow, to the leaders of today, our student programs and pastoral workshops have been pushing Anabaptists around the country to think more deeply about climate change, and to respond. And now, in the season of giving, we need your help to continue moving the needle in the Anabaptist church. Will you consider joining us as a Climate Solutions Partner today?
Every Partner is essential to us at this phase, no matter their contribution. This giving season, our goal is to join with 200 new Partners to help the continued operation of our current programs, and to expand our reach throughout the Anabaptist world. We are working hard to continue to provide programming that empowers and educates. Please consider partnering with us, and make an impact on "the issue of our time". We want to work for a brighter future for the church, will you join us?
Join us as a climate solutions partner to help fund our impactful programs: 
At the core of everything we do is a brighter future of the Mennonite church. To work towards that future, we need to work with the future leaders of the church, students. At any given time we are working with 5-10 students on Mennonite campuses around the country, empowering them with the tools they need to become leaders of the church, and pioneers of a brighter future for themselves, and the planet. Our programs include ambassadorships, internships, and fellowships, and our students have engaged in such diverse work as lobbying in Washington D.C., creating a podcast, and organizing essential conversations on their college campuses between students and administration. Our students are making a difference in the world, and we are proud to provide them the tools they need to do so.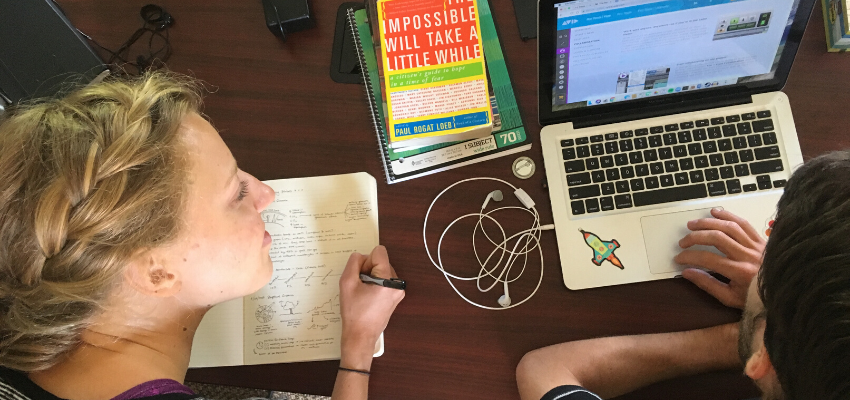 Our three programs engage with students in all different areas of their lives, from the campus to their post-college career, and are some of the most unique programs in the field. 
Campus Sustainability Ambassadors
The Campus Sustainability Ambassadors program is one of the most unique student programs in the Anabaptist world. It brings together students from all U.S. Mennonite colleges for training in campus organizing, climate communications, and sustainability. The training prepares students for a year or organizing and working with the Center on their campuses. Ambassadors have been responsible for important steps towards sustainability on their campuses, including Climate Justice Workshops, campus-wide composting, and recycling, and starting sustainability clubs. In 2020 we plan to expand the Ambassador program to include students from Canadian Mennonite universities, and your donation can help make that happen!
Internships
The Center offers both paid summer, and for-credit semester-long internships in a variety of disciplines. From Climate Advocacy in Washington, D.C., to Environmental Impact Investing with Everence in Indiana, our interns have the opportunity to experience work that is meaningful, and to take the next steps in their career. Our interns have created voting and investing guides, researched church involvement in sustainability, and designed web-pages from the ground up. We are blessed to have four summer internships (Climate Advocacy, Environmental Impact Investing, Faith Outreach, Communications), and one semester-long internship in communications. We would love to continue to expand these offerings, and your donation can help us do so! 
Climate Futures Fellowship
 The Climate Futures Fellowship is a yearlong fellowship for recent graduates, in which students get to design and implement their own project. The Fellowship is a unique program, because it allows recent graduates to explore their own interests (in the context of the Center's work) in a supervised context. Past fellows have worked on exciting and creative projects, such as a podcast, and a strategic plan for churches to address sustainability. Our fellows are an essential piece of CSCS, your support will help us continue to empower recent graduates and support creative projects that make a difference.
The Global South Voices program helps us bring the stories of our brothers and sisters around the world to the United States. On our speaking tours, we hope to give voice to those in the Global South, who are among those most affected by climate change, but whose stories are not often heard. In climate communications, connecting someone with climate change emotionally is a key step to "moving the needle" in their life. We hope that by sharing the powerful stories of our Global South Voices participants, we can build a brighter future by inspiring people to make changes in their lives that come from the heart.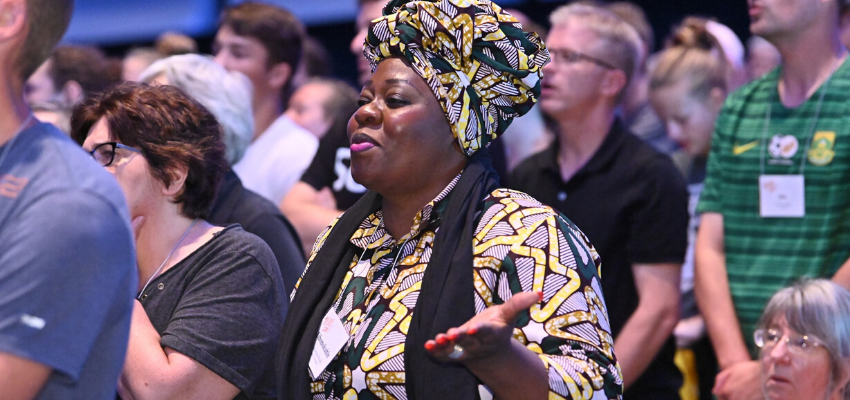 The Global South Voices speaking tour is a program that the Center began last year, in the hopes of connecting Mennonites and others in the U.S. with the stories of those who have been affected by climate change the most. Our 2018 Speaking Tour brought speakers from Zimbabwe, Nepal, and El Salvador, and reached over 1,100 people. From congregations, to universities to the U.S. capital and the U.N., our participants spoke at over 30 events, and made valuable connections which created a genuine impact on the church. 
Our speaker for the 2019 speaking tour, Dr. Sibonokuhle Ncube brought a powerful message, "mobilize from the pulpit, mobilize from the pews". She spoke to churches across the country, and at conferences and conventions. She even led the benediction at the Mennonite Convention in Kansas city, leaving participants with a call to "go, in God's peace! Go and change the world with Him and through Him! Go, and leave no one behind – from A to Z, America to Zimbabwe!" 
We have been blessed to work with so many amazing people through this program, and are hoping to keep expanding it in years to come, to include more diverse speakers from around the world, and even more stops on the tours. Join us in supporting this work!
Our programs focused on churches and congregational leadership bring conversations and actions into our faith communities. In partnership with Mennonite Creation Care Network, we hold pastoral retreats around the country which offer pastors a free opportunity to engage in deep conversations and training about the emotional impact of climate change on congregations.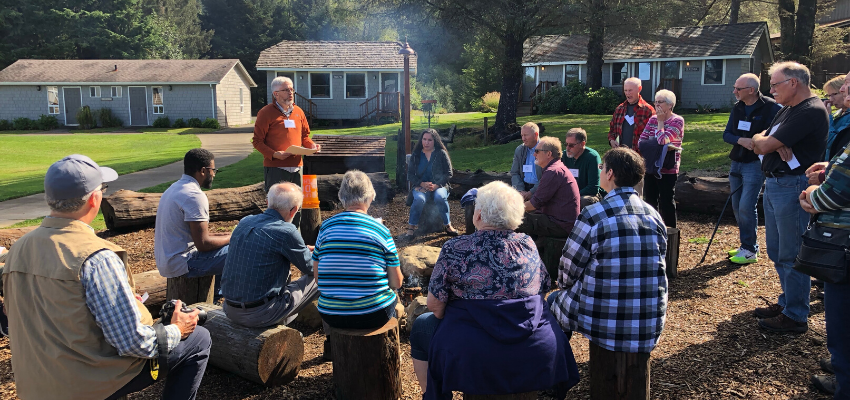 Doug Kaufman, our Director of Pastoral Ecology, has developed a unique training curriculum for the pastoral retreats. He thinks that pastors have a powerful voice in the future of the climate discussion. He believes "that congregations have a special capacity to talk about feelings [of denial and despair], to pray through them, and work towards alleviating them through finding hopeful practices in worship and formation. By simply giving people space to talk we engage climate denial." Doug's work with the Center is an essential piece to building a brighter future for the Anabaptist community. His retreats bring pastors hope, and empower them with the tools to build a brighter future for their congregants. Join us in supporting this important work today!
By becoming a partner you can help us fund our current programs, or even scale up!
FUNDING OUR CURRENT PROGRAMS:
Help us make an impact through this year's student, church, and solutions-based programming. Your donation could fund a student Ambassador for a year's work, or help fund a Global South Voices participant. Every donation counts, so join us today for a brighter future!
SCALING UP:
Climate issues need action now, and our response needs to match the urgency of the challenge. Partner with us as we work towards a phase of expanding our programs in the coming years. Our work has the potential to make a powerful impact on the Anabaptist world. Help us increase that impact by expanding our programs for students, scaling up our communcation, and expanding our staff capacity!
HELP US REACH OUR GOAL OF 200 DONORS!
You can also help us by sharing our fundraiser: